Wine Tasting Classes
Canny Grapes fun and educational wine tasting classes are about tasting and exploring the world of wine. I'm a grape lover who continuously travels learning everything about wine. I love taking people on a journey, tasting delicious wines, discovering wine regions, terroir and wine styles, learning about taste, aroma and colour while sharing a story or two about the wines and the talented winemakers.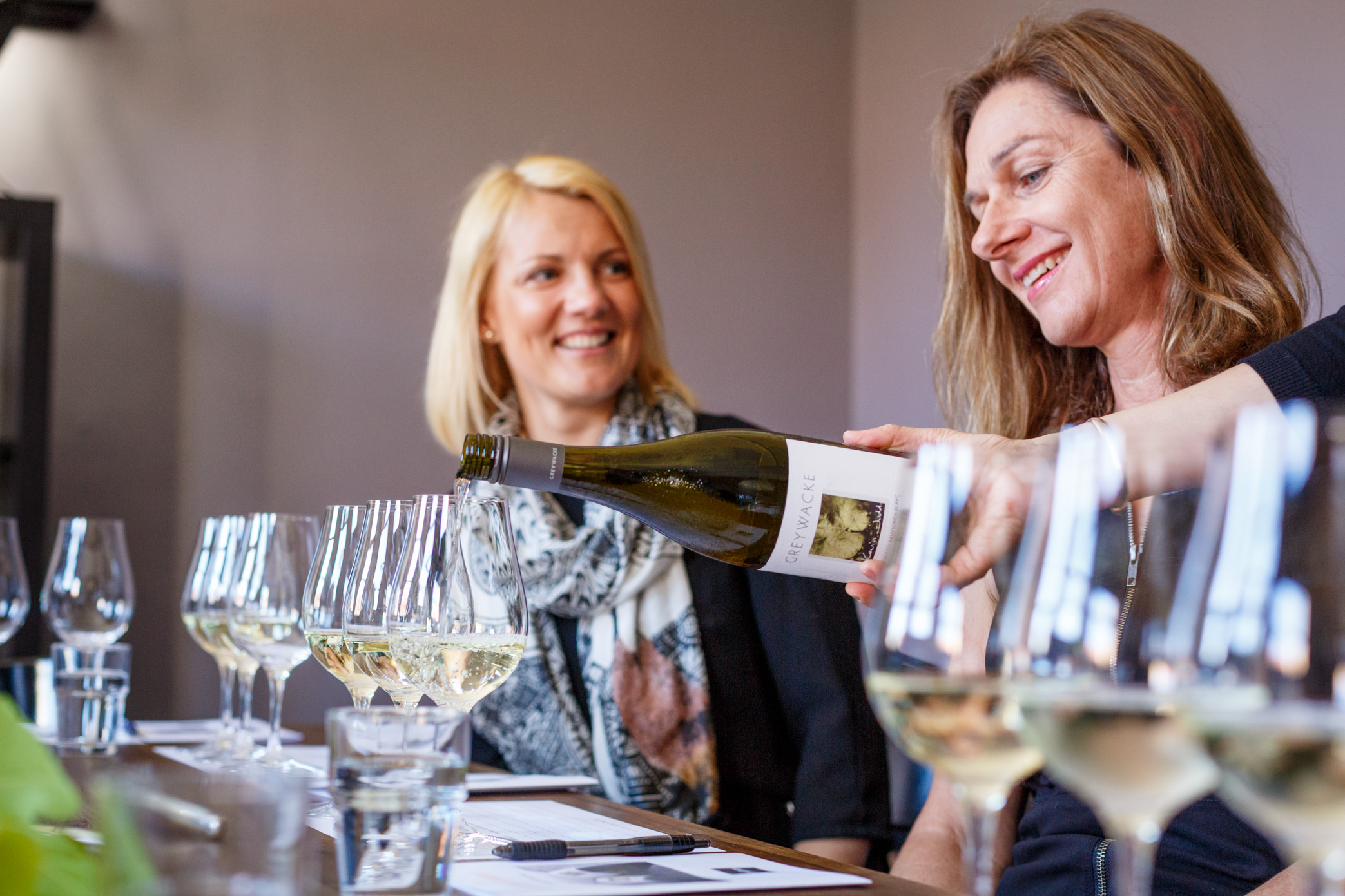 Canny Grapes offers a wide range of wine tasting classes focussing on wine regions, grape varieties and wine styles. Previous classes included a Pinot Road Trip, French Affair, Spanish Fiesta, Champagne Sunday, Winter Reds, Xmas in a glass - Fortified Wines, Chardonnay Road Trip, Wines of Northern Spain, La vie en rosé, Spanish Rosados and a Rosé Sparkling Class. See below the current wine class schedule and feel free to enquire about future wine tasting classes here.
Upcoming Canny Grapes Wine Tasting Classes
SATurday, 19th October, Tassie's best kept secrets, 3-5pm, swallow bar, maylands
Join me on my very first Tasmania journey discovering Tassie's best kept secrets! Learn about a number of grape varieties, get to know stories of Tassie's pioneers, travel the wine regions and taste 7 delicious wines. Experience this fun and educational wine tasting class, learning how to taste wine, how wine is made and how to best pair wine with food, such as Swallow Bar's famous bites. Cost: $85 - Booking essential!
Sunday, 20th October, VINO ITALIANO, 1-3pm, TRIO WINE BAR, MOUNT LAWLEY
Is an Italian wine tasting journey inviting wine lovers to experience Italy's rich variety of wine styles, distinctive terroirs and indigenous grape varieties. Taste & explore seven exclusively selected wines travelling the northern wine regions of Alto Adige, Veneto, the magical hills of Tuscany & Umbria in central Italy and all the way to Sicily. What a perfect Italian Sunday!
Cost: $80 - Booking essential!
SATURDAY, 26th October, Whites of Northern Spain, 3-5pm, Duende, leederville
This fun and educational wine tasting class is all about the blanco vinous paradise of Spain's northern wine regions. Discover regional diversity learning about their fascinating native grape varieties like Xarel-lo, Albariño, Viura, Verdejo, Ondarribi Zuri and more; starting at the Mediterranean Sea travelling across to the cool, green corner of Spain on the Atlantic site. Taste 7 selected vino blanco paired with Duende's delicious tapas. Cost: $80 - Booking essential!
Saturday, 2nd November, sparkling & champagne, 3-5pm, Swallow Bar, Maylands
Wine lovers, Perth's most popular wine tasting class resides at Swallow Bar in Maylands! Join champagne enthusiast Anja Lewis on her fun and educational journey through the world of sparkling wine and champagne. Taste 7 selected wines side by side, discover the diversity of styles, experience aromas and flavours, learn about winemaking techniques, wine regions & the best food pairings.
Cost: $80 - Booking essential!
SATURDAY, 9th NOVEMBER, PROSECCO MASTERCLASS, 1-3pm, TRIO WINE BAR, MOUNT LAWLEY
Learn about Processo's diversity, terroir, history, wine styles, winemaking techniques and how to find the best food pairing for your favourite Prosecco. Taste 7 selected wines from entry level to the finest Conegliano Valdobbiadene Prosecco Superiore. A wine tasting journey for all lovers of Prosecco and those who want to learn more about this famous Italian Sparkling wine paired with delicious cucina by Trio Wine Bar.
Cost: $80 - Booking essential!
Saturday, 16th November, GAMAYLICIOUS, 3-5pm, Swallow Bar, Maylands
Gamay Noir is a very old Burgundian variety known for a refreshing Beaujolais Nouveau. In this wine tasting class we learn about different winemaking techniques, wine styles, the origin of Gamay and taste seven selected wines from France, New Zealand and Australia where Gamay grows in regions such as Tasmania and Yarra Valley. Enjoy a perfect afternoon packed with delicious bites and refreshing summer reds. In one word: GAMAYLICIOUS!
Cost: $80 - Booking essential!
SATURDAY, 23rd November, taste of Spain, 3-5pm, Duende, leederville
Spain has the most land dedicated to vineyards in the world! That's why there is so much diversity when it comes to Spanish wines. Join me at this fun & educational wine tasting class exploring Spain's northern, mediterranean and southern coast, travelling to wine regions such as Rías Baixas, Rioja, Penedés, Valencia and Jerez. Learn about Spanish native white and red grape varieties tasting 7 selected wines paired with Duende's delicious tapas.
Cost: $80 - Booking essential!
Sunday, 1st december, champagne sunday, 3-5pm, Swallow Bar, Maylands
No denying, we have a love affair with champagne. Champagne is our all time favourite and we love celebrating and sharing our passion for champagne with others. Let me take you on an extraordinary effervescent journey learning about champagne's history, how it is made, its diversity in style and taste, getting to know smaller growers and exploring Champagne as a region. There is no better way to finish 2019, then with a delicious champagne tasting! Cost: $130 - Booking essential!
Locations
Swallow Bar- Maylands
Swallow Bar is in the heart of Maylands, only 15 minutes drive from Perth CBD or 11 minutes train ride from Perth CBD taking the Midland train, stopping at Maylands station, right opposite The Swallow Bar.
Duende Spanish Tapas Bar - Leederville
Duende is positioned on the fringe of vibrant Leederville, an original Spanish tapas bar providing a unique culinary experience dedicated to the Spanish tapas culture with this experienced in warm, rustic surrounds. Duende is only 10 min by car or one stop with the Joondalup train from the Perth CBD.
Trio Wine Bar - Mt Lawley
Trio Wine Bar is an Italian Trattoria/Wine Bar at the northern end of Beaufort Street. Vibrant and rustic at the same time, its a local favourite at any time of the day. Trio Wine Bar is only 10 min by car from the CBD or you can jump on the 950 bus that stops conveniently opposite/next to the bar.
Previous wine tasting classes by canny grapes
You really want to come to a Canny Grapes Tasting Class but the days and dates don't fit into your schedule? Why not have your own Private Tasting Class with your friends or colleagues?
WINE BLOGGER WRITING ABOUT CANNY GRAPES
GOON BAGS
Bron and Hannah are two working mums in Perth who decided to start a wine blog despite having no experience in the wine industry. The fun part of wine blogging is that you get to taste and learn about wine. Read here the Goon Bags blog about 'how to drink wine' including six simple wine tasting tips.
Casey Bryan who shares her wine experiences via her wine blog Travelling Corkscrew joined me at one of my wine tasting classes earlier this year. Together we travelled through Italy, Spain, France and Australia learning about sparkling wine & champagne. Check out what she wrote about Canny Grapes Wine Tasting Classes here. Casey also loves Thai food, so it's no surprise that she attended my regular wine pairing dinners "Aromatics & Thai' at Itsara which she also shared on her blog.